Aquarius Money Luck Horoscope for today, 7 December 2022. Check your money luck and improve your cash flow.
Money luck for today, 7 December 2022

Certainly, today Aquarius makes money luck for tomorrow. As a result, it makes money luck for next week and month.

As Jupiter moves into his final two weeks in your income sector, he knows that even as the planet of luck and expansion there is only so much that he can accomplish in 14 days. Fortunately, while Jupiter will put a target on any low hanging fruit, he is also setting things in motion for planets that over the coming months will follow through on what you can invest in while he is here. Even if it is just investing in a belief in what you deserve.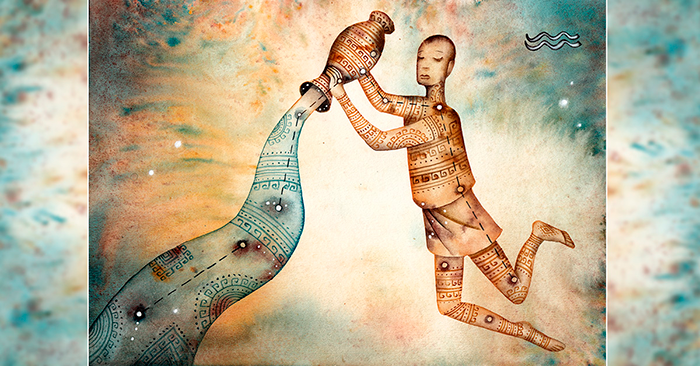 Money for tomorrow, 8 December 2022

As long as money never sleeps, the root of tomorrow's money success of Aquarius is daily efforts for the business.

As Neptune settles into his early days in direct motion in your income sector and with Jupiter now in his final two weeks here, the focus is all on the future. Yet today there might be a sense that something is holding you back or that you are waiting for something. That something is the Moon, who will return for its last visit to your work sector tomorrow and with it a chance to bring all the threads together from across the income, work and career fronts.
Weekly Aquarius horoscope

Raise your cash flow with a weekly money horoscope! Because Money has no holidays, even for Aquarius.

Moving into the new working week there may be no material changes or anything that you can put your finger on, but there will be a new sense of confidence or a sense that on the income front something has shifted. Because the Moon only left your income sector late last week your nose for money is still sharp but more emotionally and intuitively engaged, allowing you to pick up on Neptune's direct turn in your income sector over the weekend. Neptune only turned direct on Sunday and not only starts the week at a standstill but will spend the rest of the year barely moving. However, it was Jupiter's direct turn 10 days earlier that means he is no longer held back and moving into his final two weeks here on Wednesday, the planet of luck and expansion is ready to make these final weeks count. This is something you will get more insight into when the Moon returns for its last visit to your work sector for the year on Friday, with a chance to get your ducks in a row across the income, work and career fronts over the weekend.
Money horoscope for December 2022

In any case, Aquarius has to plan financial stability. This is the key to success in December 2022.

Jupiter only retrograded back into your income sector at the end of October but already he is back in direct motion and preparing to leave on 21st December, this time not returning for another decade. This gives the planet of luck and expansion three weeks to not only try and bring this financial year to a lucrative close but also to prepare for the future. Neptune, who turns direct here on 4th December will not only stay on but on 8th March he will be joined by Saturn, bringing the planet of dreams and the hard taskmaster of the cosmos together here for the first time in our lifetime. While an unlikely team, with Saturn and Neptune continuing to work together as a team for the next three years, this will finally give you the structure, discipline and tenacity to turn dreams into reality. Where Jupiter is the perfect planet to build the dream, Saturn is the perfect planet to turn that dream into reality, which will become one of the major themes of 2023. Knowing this, Jupiter is less focused on what you can or can't achieve on the income front before he leaves on 21st December as he is focused on leaving you wanting and expecting more. However, starting the month with the Moon in your income sector until 2nd December, where it can sharpen your nose for money and act as a trigger, could get the month off to a lucrative start. Especially as this will be the Moon's first visit since the Sun left your career sector nine days earlier and the professional momentum this has created. By the time the Moon comes full circle from 27th December to 29th December Jupiter will be gone but once again, the Moon can sharpen your nose for money and act as a trigger for all the potential that the planet of luck and expansion has created. Meanwhile, on the other side of the sky the dwarf planet Ceres will wrap up her first deep dive into your financial needs and priorities when she leaves your financial sector on 19th December. The Moon's return from 14th December to 17th December will give you a chance to make money matters a priority, in a month when the income side of the financial fence is a lot more dominant.