Aquarius Money Luck Horoscope for today, 19 August 2022. Check your money luck and improve your cash flow.
Money luck for today, 19 August 2022

Certainly, today Aquarius makes money luck for tomorrow. As a result, it makes money luck for next week and month.

As he moves into his final seven days in your financial sector, Mercury is lacking the kind of urgency you would normally expect. This is partly because the Sun will return early next week but mainly because a retrograde turn will bring Mercury back for a second visit next month. This gives you time to get your head in the game and ideas on the table but without the pressure to nail anything down.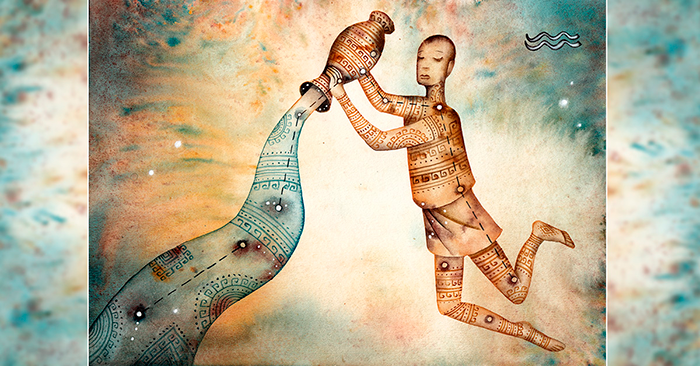 Money for tomorrow, 20 August 2022

As long as money never sleeps, the root of tomorrow's money success of Aquarius is daily efforts for the business.

As much as tension is starting to grow between Mercury, heading into his last weekend in your financial sector and Neptune, in retrograde motion in your income sector, both sides of the financial fence are well positioned. This is putting a balance between money coming in and money going out to the test but support on both sides will make it easy to get the balance right.
Weekly Aquarius horoscope

Raise your cash flow with a weekly money horoscope! Because Money has no holidays, even for Aquarius.

While the Moon will leave your income sector just as you move into the new week and will be all but gone, just starting the week with a sharp nose for money will be an advantage. Especially as this was a chance to regroup after Venus, the planet of money not only left your work sector last Friday but ended all planetary activity on the job front for the year. Over the weekend the Moon connected with forces on the income and career fronts that will take it from here. This also saw the Moon clash with Mercury, now in his last full week in your financial sector and that was just as important. Mercury will clash with both planets in your income sector in the second half of the week but not before spending the first half at a friendly aspect to both the North Node and Uranus. Apart from the Moon, this is a chance to go into the first clash between planets on both sides of the financial fence with a smart head for money, your confidence high and already alert to any balance issues between money coming in and money going out.
Money horoscope for August 2022

In any case, Aquarius has to plan financial stability. This is the key to success in August 2022.

Until now the only planetary activity in either of your two money houses has been on the income side of the financial fence and while that will remain the case, this month we will finally see some planetary activity on the other side and with perfect timing. While Neptune turned retrograde in your income sector at the end of June, it was only in the closing days of July that the asteroid Juno turned retrograde here. This has not only put both planets in your income sector in retrograde motion but as the queen of commitment, Juno brings the determination to make the most of the doors open to the past, second chances and untapped income potential. With both remaining in retrograde motion until later in the year, this leaves a gap for planets that are focused on where you have been rather than on where you are going. This is where the first planetary activity on the other side of the financial fence for the year comes in, with Mercury's return to your financial sector on 4th August bringing the smart head for money needed to get your head in the game and around money matters. While the Sun won't return until 23rd August, something that will always turn the solar spotlight onto your financial situation and money matters at this time of year and with Mercury here until 26th August, this gives you time to get your head and explore your options. In an important month on both sides of the financial fence and with the dynamics of this financial year shifting, the Moon's monthly visits are key to remaining emotionally and intuitively engaged. The Moon will begin the month in your financial sector and until leaving on 2nd August and with Mercury returning on 4th August this will ensure your financial instincts are sharp from the start. The Moon will come full circle on 27th August, a day after Mercury leaves but this time, it is his smart head for money that will give you an edge as it aligns with the Sun to create a New Moon on 27th August. Meanwhile, until leaving your work sector on 12th August, as the planet of money Venus will be working with the planets in your income sector to steer work and job matters in a lucrative direction.