Gemini luck horoscope for today and tomorrow, 20 August 2022, weekly and monthly for August 2022. Daily luck prediction for Gemini that helps to keep positive mind.
Meaning of Name: The Twins;
Gemini Dates: May 22 – June 21;
Gemini Symbol: ♊;
Sign Type: Air;
Gemini Planet: The Mercury;
Lucky Color: Orange, Lemon, Yellow;
Lucky Day: Wednesday;
Lucky Number: 5, 14, 23, 32, 41, 50;
Gemini Birthday Flowers: Lavender;
Gemini Birthstone: Pearl;
Associated Chinese Animal: Horse;
About Gemini Zodiac Sign
Gemini is a daily representative of the sign with the brightest horoscope. And most adventurous personalities in the entire zodiac world. Character duality and variability are their main features. But the secrets do not end there.
Gemini loves social interaction. Without the people and the active pastime, they can not imagine their life. Extroverted, they are extremely communicative. Will find the approach to anyone.
People reach out to them with all their might. Because this air sign has excellent humor, ease of behavior, and optimism. However, it is difficult for them to bring things to an end. Because the Gemini is fickle in everything, quickly changing the course set.
This accompanies them throughout life. Appearing in different areas. But in the art of verbal battles representatives of this sign. It has no equal, they are the best lawyers and journalists. They have a tendency to collect the smallest facts that anyone else simply would not notice.
This observation combined with the successful operation of information. This makes Gemini an excellent manipulator and connoisseurs of human souls.
Some believe that this sign inherent hypocrisy and subterfuge. But the wards of Air are simply extremely intelligent. Prefer to use the roundabouts and profitable ways to achieve their goals, rather than beat a path.
They are rarely vindictive and hypochondriacs. If the Gemini did something to you, it is unlikely that they did it intentionally. Most likely they didn't think about the fact that their actions could have consequences. And that is the main disadvantage of this sign.
Daily Luck for Gemini
Surely, today is not just important day for Gemini. But specific chance to make efforts for future.
Questioning whether there's any point to investing effort in a particular area means you have work to do in another way. The fact that you wonder if it's relevant or appropriate to do something indicates you've yet to assess the potential benefits carefully and honestly. So, if there's any deliberation on your part now, you've likely overlooked that crucial stage of the decision-making process!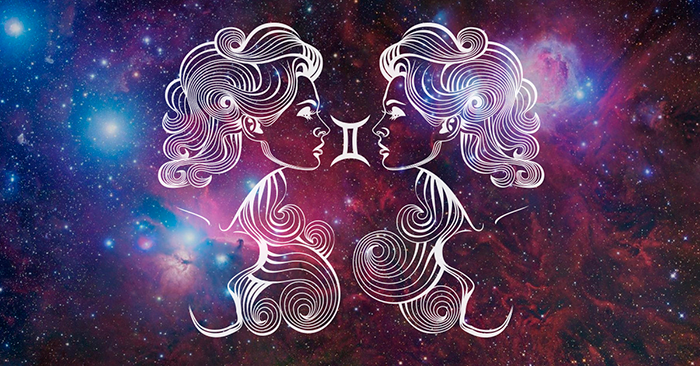 Horoscope for Gemini for Tomorrow
Tomorrow comes at least tomorrow. However, for Gemini "tomorrow" comes unexpected sometimes.
Make-things-happen Mars occupies your sign from today and during the next seven months. So, you're likely to stand your ground and assert yourself more frequently during this time. But while you're blessed with an enhanced ability to take charge of your life, it's important you don't steamroller or bulldoze others in the process!
Weekly Gemini Horoscope
Basically, every day in a week can be significant. Without a doubt, his is the good reason for Gemini trying to make these days better.
This week could feel emotionally intense, but developments point toward progress and potentially long-awaited closure. Your ruling planet, Mercury, influences your emotional foundations and what helps you feel secure. As Mercury connects with Pluto, affecting what you keep hidden or avoid, it might feel like you have no option other than to accept and face something you'd prefer not to. However, this is extremely positive and could result in an overdue emotional release.
Horoscope for Gemini for August 2022
I'm sure you know what happened to Popeye when he downed a can of spinach. Having an abundance of strength, determination, willpower, and staying power is a blessing. But underestimating each may pose problems. As Mars occupies your sign for an extra long visit, you could amaze yourself and others with what you achieve from increased fervent energy. But how you harness this positively, constructively and pleasurably will be the most impressive.