Sagittarius horoscope for today, 28 July 2021, tomorrow 29 July 2021, weekly and monthly for July 2021. Daily prediction for Sagittarius undeniably helps to keep positive mind.
Meaning of Name: The Archer;
Sagittarius Dates: November 23 – December 21;
Sagittarius Symbol: ♐;
Sign Type: Fire;
Sagittarius Planet: The Jupiter;
Lucky Color: Violet, Purple, Red, Pink;
Lucky Day: Thursday;
Lucky Number: 3, 12, 21, 30;
Sagittarius Birthday Flowers: Narcissus & Carnation;
Sagittarius Birthstone: Turquoise;
Associated Chinese Animal: Rat;
About Sagittarius Zodiac
The main feature of Sagittarius and his daily, or any other, horoscope is the desire for a constant movement that distinguishes this sign. What other secrets the fiery Archer hides, you can find out by reading its characteristics.
Active and curious Sagittarians like travel, new experiences, and acquaintances, they are not confused in a new and unfamiliar environment. Quickly able to adapt to their surroundings, making a lot of superficial acquaintances.
Sagittarians are sharp on the tongue, they can say everything they think, not embarrassed, so often perceived by others as rude and harsh personality. However, their openness always allows them to gain acceptance by everyone, because Sagittarians know how to take things into their own hands, setting the tone for the conversation.
They are charismatic and bright individuals, optimists, and incorrigible travelers. Sometimes the urge for adventure is too restless, causing offense to those close to them, as Sagittarians tend to be traded in for superficial acquaintances.
It is difficult for them to start a family because of the features of the active character, and the other half of Sagittarius will have to constantly come up with something new in order to maintain the constant interest of the lover.
Restless Sagittarians are ready to change one activity for another as soon as they feel bored. They are easily given complex subjects, such as studying foreign languages, but it is difficult for people of this sign to complete the started enterprise to the end.
The emotionality and brightness of Sagittarius knows no limits, with him it is impossible to achieve the constancy and complete reliability both in friendships and in the love line.
Sagittarius Horoscope for Today
Surely, today is not only important day for Sagittarius. But specific chance to make efforts for future.

Some rules, as the old saying goes, were made to be broken. Clearly, there are some we shouldn't consider breaking, and you may be willing to show respect toward the need to do something traditionally now. Yet, if you manage to spot a better way of doing it, then do you - and possibly others - not benefit from at least bending a certain rule? That could be the case!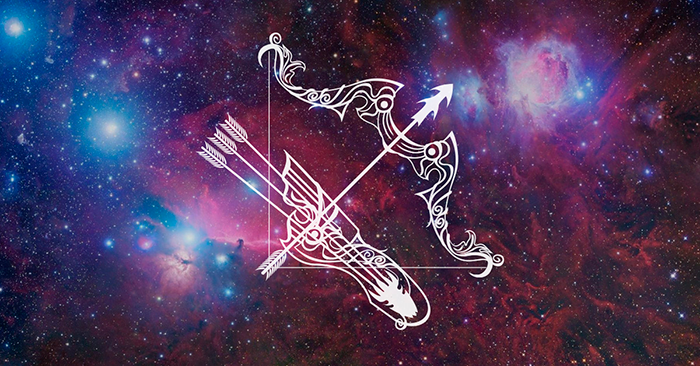 Sagittarius Horoscope for Tomorrow
Undoubtely, tomorrow comes at least tomorrow. However, for Sagittarius "tomorrow" comes unexpected sometimes.

Unhelpful distractions could take the form of one or two people who believe they have helpful or necessary input to offer. This might also involve criticism coming your way that you feel is unjustified. Somehow, doing what suits you or feels right could be met with resistance. But those who stand in your way could have their own selfish reasons for doing so.

Need answers about relationship Sagittarius? Of course read it!

Love horoscope for Sagittarius
Sagittarius Weekly Horoscope
Basically, every day in a week can be significant. Without a doubt, this is the good reason for Sagittarius trying to make these days better.

A connection between Mercury and Jupiter could bring a brainwave and fascinating insights. This is your chance to assess the direction of your life and if you're satisfied with a path you're on currently. It may also be time to evaluate a personal vision. Is it one from your past that may be less appropriate or even irrelevant now? Some answers are determined to find you this week. If they encourage you to set your life on a new trajectory, then that's something to be celebrated.

Need more money? In any case, tap to this button:

Money horoscope for Sagittarius
Sagittarius Horoscope for July 2021
A New Moon on the 9th brings a fresh start to 'deep sharing.' If you've experienced a drought intimately, then your libido could be satisfied! But joint finances and investments are also affected. It may be someone else's money that benefits you this month. You also have Venus and Mars working magic with your career. Professional ambitiousness could be boosted noticeably, and you'll likely see a connection between more effort on the work front bringing more money.