Sagittarius luck horoscope for today, 24 March 2023, tomorrow 25 March 2023, weekly and monthly for March 2023. Daily luck prediction for Sagittarius undeniably helps to keep positive mind.
Meaning of Name: The Archer;
Sagittarius Dates: November 23 – December 21;
Sagittarius Symbol: ♐;
Sign Type: Fire;
Sagittarius Planet: The Jupiter;
Lucky Color: Violet, Purple, Red, Pink;
Lucky Day: Thursday;
Lucky Number: 3, 12, 21, 30;
Sagittarius Birthday Flowers: Narcissus & Carnation;
Sagittarius Birthstone: Turquoise;
Associated Chinese Animal: Rat;
About Sagittarius Zodiac
The main feature of Sagittarius and his daily, or any other, horoscope is the desire for a constant movement that distinguishes this sign. What other secrets the fiery Archer hides, you can find out by reading its characteristics.
Active and curious Sagittarians like travel, new experiences, and acquaintances, they are not confused in a new and unfamiliar environment. Quickly able to adapt to their surroundings, making a lot of superficial acquaintances.
Sagittarians are sharp on the tongue, they can say everything they think, not embarrassed, so often perceived by others as rude and harsh personality. However, their openness always allows them to gain acceptance by everyone, because Sagittarians know how to take things into their own hands, setting the tone for the conversation.
They are charismatic and bright individuals, optimists, and incorrigible travelers. Sometimes the urge for adventure is too restless, causing offense to those close to them, as Sagittarians tend to be traded in for superficial acquaintances.
It is difficult for them to start a family because of the features of the active character, and the other half of Sagittarius will have to constantly come up with something new in order to maintain the constant interest of the lover.
Restless Sagittarians are ready to change one activity for another as soon as they feel bored. They are easily given complex subjects, such as studying foreign languages, but it is difficult for people of this sign to complete the started enterprise to the end.
The emotionality and brightness of Sagittarius knows no limits, with him it is impossible to achieve the constancy and complete reliability both in friendships and in the love line.
Sagittarius Daily Luck
Surely, today is not only important day for Sagittarius. But specific chance to make efforts for future.

Attracting attention or putting yourself in a proverbial spotlight will have benefits. But try not to apply self-created restrictions to how close you allow others or someone in particular to get. The more you remember that proper, helpful interaction and communication must be two-way streets, the more grateful you'll be to have made yourself available and accessible to others.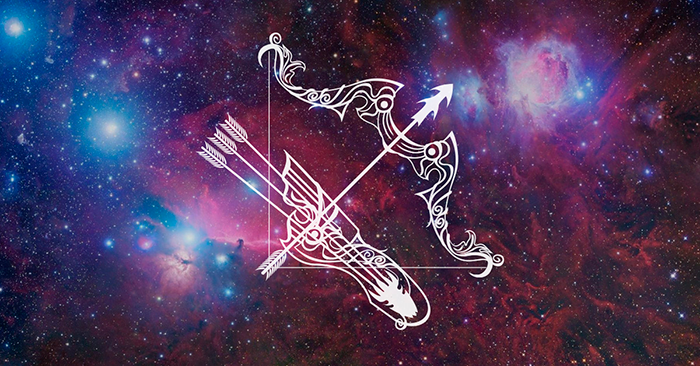 Sagittarius Horoscope for Tomorrow
Undoubtely, tomorrow comes at least tomorrow. However, for Sagittarius "tomorrow" comes unexpected sometimes.

Your insightful support could be what someone needs. Even if you might normally put some distance between yourself and others or someone in particular, you could feel generous with your time and attention now. The feel-good factor that comes from assisting someone aside, you could also benefit by learning from what they experience. It's a win/win scenario if you make yourself available.
Sagittarius Weekly Horoscope
Basically, every day in a week can be significant. Without a doubt, this is the good reason for Sagittarius trying to make these days better.

Until May 20, the winds of change in one or two areas of your world could feel gale-like. You're about to deal more with far-reaching transformation than subtle changes or tweaks. Fortunately, you're in control of this and benefit from Mars's influence to make things happen during the coming weeks. As mighty Mars links with Saturn this week, you're reminded that a fear can disappear by facing and resolving it. Don't worry if emotions play a part in making this happen.
Sagittarius Horoscope for March 2023
A Full Moon on the 7th could bring recognition or praise from a boss or someone in charge of your workplace. On the same day, strict taskmaster Saturn no longer brings rewards and frustrations to how you communicate or convey yourself. Until 2026, Saturn will focus instead on your home, family and security needs. You're encouraged to rely less on what and who you've grown used to for stability. The life-changing process of becoming less dependent starts this month.