Sagittarius luck horoscope for today, 19 August 2022, tomorrow 20 August 2022, weekly and monthly for August 2022. Daily luck prediction for Sagittarius undeniably helps to keep positive mind.
Meaning of Name: The Archer;
Sagittarius Dates: November 23 – December 21;
Sagittarius Symbol: ♐;
Sign Type: Fire;
Sagittarius Planet: The Jupiter;
Lucky Color: Violet, Purple, Red, Pink;
Lucky Day: Thursday;
Lucky Number: 3, 12, 21, 30;
Sagittarius Birthday Flowers: Narcissus & Carnation;
Sagittarius Birthstone: Turquoise;
Associated Chinese Animal: Rat;
About Sagittarius Zodiac
The main feature of Sagittarius and his daily, or any other, horoscope is the desire for a constant movement that distinguishes this sign. What other secrets the fiery Archer hides, you can find out by reading its characteristics.
Active and curious Sagittarians like travel, new experiences, and acquaintances, they are not confused in a new and unfamiliar environment. Quickly able to adapt to their surroundings, making a lot of superficial acquaintances.
Sagittarians are sharp on the tongue, they can say everything they think, not embarrassed, so often perceived by others as rude and harsh personality. However, their openness always allows them to gain acceptance by everyone, because Sagittarians know how to take things into their own hands, setting the tone for the conversation.
They are charismatic and bright individuals, optimists, and incorrigible travelers. Sometimes the urge for adventure is too restless, causing offense to those close to them, as Sagittarians tend to be traded in for superficial acquaintances.
It is difficult for them to start a family because of the features of the active character, and the other half of Sagittarius will have to constantly come up with something new in order to maintain the constant interest of the lover.
Restless Sagittarians are ready to change one activity for another as soon as they feel bored. They are easily given complex subjects, such as studying foreign languages, but it is difficult for people of this sign to complete the started enterprise to the end.
The emotionality and brightness of Sagittarius knows no limits, with him it is impossible to achieve the constancy and complete reliability both in friendships and in the love line.
Sagittarius Daily Luck

Surely, today is not only important day for Sagittarius. But specific chance to make efforts for future.

If you've built a tower with playing cards, you'll probably know how the novelty wears off quickly. A few collapses can encourage us to do something more productive. But whatever needs careful handling in your world now needs you to accept that the little details count most. So, give those your undivided attention, handle them carefully, and something bigger and sturdier will be created.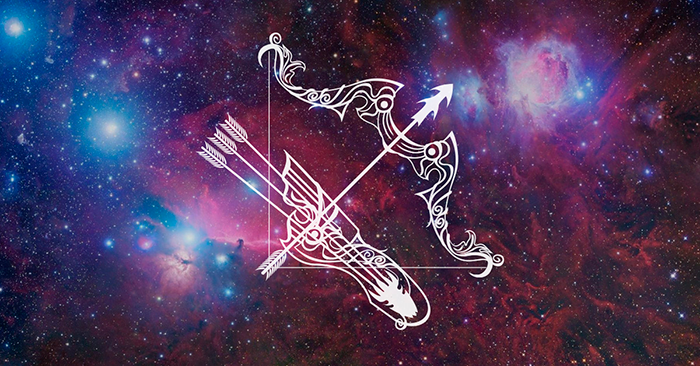 Sagittarius Horoscope for Tomorrow

Undoubtely, tomorrow comes at least tomorrow. However, for Sagittarius "tomorrow" comes unexpected sometimes.

Until March, passion-planet Mars affects relationships, partnerships and one-to-one connections. This has benefits, especially if you want more physical activity with somebody. But a potential downside involves ego conflicts. You and a partner, either romantic or in business, may clash frequently. But the effort given to confrontations can be harnessed to bring resolutions or reconciliations.
Sagittarius Weekly Horoscope

Basically, every day in a week can be significant. Without a doubt, this is the good reason for Sagittarius trying to make these days better.

Your success in a particular area could stir career-related controversy or with one or two people you 'answer to' in some way. Mercury stimulates your reputation and status, highlighting your ambitiousness and cleverness. But its link with Pluto affects your confidence and self-esteem. So, be aware of how others might congratulate or applaud you - but may also be envious of your abilities or what you accomplish.
Sagittarius Horoscope for August 2022

This month, have a receptive, open mind. But also try counting to ten frequently. Opportunities to expand your knowledge could be handy with creating more security with a new job or moving up a career ladder. There are plus points to having passion planet Mars affecting relationships from this month, too. But Mars also enjoys aggression, confrontation and competitiveness. By counting to ten and summoning sensitivity, you can avoid heated or confrontational scenarios!