Sagittarius horoscope for today, 12 May 2021, tomorrow 13 May 2021, weekly and monthly for May 2021. Daily prediction for Sagittarius undeniably helps to keep positive mind.
Meaning of Name: The Archer;
Sagittarius Dates: November 23 – December 21;
Sagittarius Symbol: ♐;
Sign Type: Fire;
Sagittarius Planet: The Jupiter;
Lucky Color: Violet, Purple, Red, Pink;
Lucky Day: Thursday;
Lucky Number: 3, 12, 21, 30;
Sagittarius Birthday Flowers: Narcissus & Carnation;
Sagittarius Birthstone: Turquoise;
Associated Chinese Animal: Rat;
About Sagittarius
The main feature of Sagittarius and his daily, or any other, horoscope is the desire for a constant movement that distinguishes this sign. What other secrets the fiery Archer hides, you can find out by reading its characteristics.
Active and curious Sagittarians like travel, new experiences, and acquaintances, they are not confused in a new and unfamiliar environment. Quickly able to adapt to their surroundings, making a lot of superficial acquaintances.
Sagittarians are sharp on the tongue, they can say everything they think, not embarrassed, so often perceived by others as rude and harsh personality. However, their openness always allows them to gain acceptance by everyone, because Sagittarians know how to take things into their own hands, setting the tone for the conversation.
They are charismatic and bright individuals, optimists, and incorrigible travelers. Sometimes the urge for adventure is too restless, causing offense to those close to them, as Sagittarians tend to be traded in for superficial acquaintances.
It is difficult for them to start a family because of the features of the active character, and the other half of Sagittarius will have to constantly come up with something new in order to maintain the constant interest of the lover.
Restless Sagittarians are ready to change one activity for another as soon as they feel bored. They are easily given complex subjects, such as studying foreign languages, but it is difficult for people of this sign to complete the started enterprise to the end.
The emotionality and brightness of Sagittarius knows no limits, with him it is impossible to achieve the constancy and complete reliability both in friendships and in the love line.
Horoscope for Today
Surely, today is not only important day for Sagittarius. But specific chance to make efforts for future.

Many people believe that being seen to 'attack first' sends out a clear message to others. But we don't always make correct assessments where being defensive is concerned. So much relies on our interpretation of someone's words or actions. Before you launch a counter-attack, make sure you haven't misinterpreted someone's enthusiasm or determination for antagonism.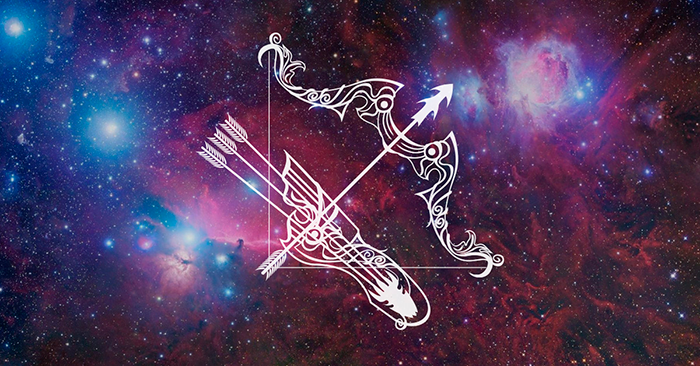 Horoscope for Tomorrow
Undoubtely, tomorrow comes at least tomorrow. However, for Sagittarius "tomorrow" comes unexpected sometimes.

We know that a stopped watch or clock tells the correct time twice a day. We also know that if we did nothing more than guess at a multiple-choice exam offering four answers, we'll get 25% of them right. Sometimes, the right things happen without us having to do a single thing. It's worth assessing what you can afford to trust and leave alone in your world now.

Need answers about relationship Sagittarius? Of course read it!

Love horoscope for Sagittarius
Weekly Horoscope
Basically, every day in a week can be significant. Without a doubt, this is the good reason for Sagittarius trying to make these days better.

Unacceptable situations often tick along predictably until one tiny additional factor becomes the straw that does something painful to the back of a camel. Events this week could test your patience. But it could be by having your patience tested that you gain a new perspective where you need one. Should you experience a change of heart this week, that doesn't make you illogical or inconsistent. It means you've reached a turning point that you should appreciate and embrace.

Need more money? In any case, tap to this button:

Money horoscope for Sagittarius
Horoscope for May 2021
May could be a pivotal month to remember and for more than one reason. You have a New Moon on the 11th influencing your work and what you do daily, for starters. This could bring a fresh start on the job front or with a health regime. But the biggest news involves a Full Moon Lunar Eclipse occurring in your sign on the 26th. Emotions could run high, but this might be necessary to remove or release what has become outdated or more of a hindrance than helpful.