Scorpio luck horoscope for today, 19 August 2022, tomorrow 20 August 2022, weekly and monthly for August 2022. Daily luck prediction for Scorpio undeniably helps to keep positive mind.
Meaning of Name: The Scorpion;
Scorpio Dates: October 24 – November 22;
Scorpio Symbol: ♏;
Sign Type: Water;
Scorpio Planet: The Pluto;
Lucky Color: Scarlet, Red, Rust;
Lucky Day: Tuesday;
Lucky Number: 9, 18, 27, 36, 45, 54, 63, 72, 81, 90;
Scorpio Birthday Flowers: Chrysanthemum & Geraniums;
Scorpio Birthstone: Topaz;
Associated Chinese Animal: Pig;
About Scorpio Zodiac
Scorpio in his daily life horoscope is One of the most dangerous and unpredictable signs. The water element, which patronizes Scorpios, makes them rather mysterious and secretive personalities. You never know what they are up to, and at the same time, Scorpio's personalities are characterized by straightforwardness and sharpness in their judgments.
They are ready to defend their views and beliefs, not at all embarrassed by the irrelevance of the situation. Scorpios can be fairly blunt and straightforward, but they are no strangers to cunning if they know exactly what will lead to the intended goal.
People of this sign have a lot of enemies because of their contradictory and overbearing nature. Scorpios are able to "bite" the offender if they inflict mental wounds. These people can take revenge, they do not forgive weaknesses and mistakes.
Strongest sign, which will stand up psychologically and physically, where others fail. A distinctive ability of the sign is the ability to maintain composure and equanimity in emotionally difficult situations, which is why the heroic professions: military, doctors, rescue – are so inherent in Scorpio. They are strong and passionate natures, which reach unprecedented heights in dangerous and difficult cases.
Scorpios are often tyrants and jealous, wanting to be first. This sign loves everyone's attention and power. Bright and complex personalities, they are capable of being extremely loyal and loving, desperately protecting those close to them, but you need to win the love of a Scorpio, and it is difficult to do.
Scorpio Luck Horoscope for Today

Surely, today is not only important day for Scorpio. But specific chance to make efforts for future.

'I'm calling the shots now.' Those words could change the balance of power in a relationship. But it's not that you necessarily want more control. Instead, you are probably tired of adhering to how somebody sees things between you. But making yourself less available or stepping back is all that's needed to encourage someone to come or listen to you for a change.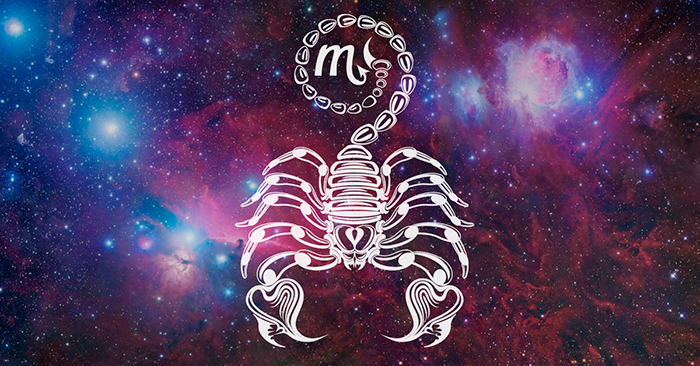 Scorpio Horoscope for Tomorrow

Undoubtely, tomorrow comes at least tomorrow. However, for Scorpio "tomorrow" comes unexpected sometimes.

The universe knows what it's doing by allowing Mars to boost sexuality and intimacy during the next seven months! To have the passion planet adding fuel to your libido means physical connecting goes off the scale. But during Mars's seven-month journey, you could become more reliant on others, too. You may have fewer qualms about asking for support, which can only be good.
Scorpio Weekly Horoscope

Basically, every day in a week can be significant. Without a doubt, his is the good reason for Scorpio trying to make these days better.

Mercury's link with Pluto could increase a desire to meet, mingle or network. You could feel an enhanced desire to widen communication lines with others, which would probably be easier if Pluto wasn't so obsessive. Mercury wants you to focus on wide-scale interaction, but you might find your attention drawn consistently to one person and the need to communicate strictly with them. You probably won't have to rely on your instincts to tell you if they feel neglected, either.
Scorpio Horoscope for August 2022

Will something impressive happen if you reach out to one or two people or widen communication lines generally with others? It's possible! But regardless of distractions that might exist outside the sphere of those closest to you, you have superb opportunities to form or strengthen important and far-reaching bonds. All you need to do is make more of an effort to relate and connect with people your heart urges you to reach out to. Then, see what happens or improves.