Scorpio luck horoscope for today, 30 November 2021, tomorrow 1 December 2021, weekly and monthly for November 2021. Daily luck prediction for Scorpio undeniably helps to keep positive mind.
Meaning of Name: The Scorpion;
Scorpio Dates: October 24 – November 22;
Scorpio Symbol: ♏;
Sign Type: Water;
Scorpio Planet: The Pluto;
Lucky Color: Scarlet, Red, Rust;
Lucky Day: Tuesday;
Lucky Number: 9, 18, 27, 36, 45, 54, 63, 72, 81, 90;
Scorpio Birthday Flowers: Chrysanthemum & Geraniums;
Scorpio Birthstone: Topaz;
Associated Chinese Animal: Pig;
About Scorpio Zodiac
Scorpio in his daily life horoscope is One of the most dangerous and unpredictable signs. The water element, which patronizes Scorpios, makes them rather mysterious and secretive personalities. You never know what they are up to, and at the same time, Scorpio's personalities are characterized by straightforwardness and sharpness in their judgments.
They are ready to defend their views and beliefs, not at all embarrassed by the irrelevance of the situation. Scorpios can be fairly blunt and straightforward, but they are no strangers to cunning if they know exactly what will lead to the intended goal.
People of this sign have a lot of enemies because of their contradictory and overbearing nature. Scorpios are able to "bite" the offender if they inflict mental wounds. These people can take revenge, they do not forgive weaknesses and mistakes.
Strongest sign, which will stand up psychologically and physically, where others fail. A distinctive ability of the sign is the ability to maintain composure and equanimity in emotionally difficult situations, which is why the heroic professions: military, doctors, rescue – are so inherent in Scorpio. They are strong and passionate natures, which reach unprecedented heights in dangerous and difficult cases.
Scorpios are often tyrants and jealous, wanting to be first. This sign loves everyone's attention and power. Bright and complex personalities, they are capable of being extremely loyal and loving, desperately protecting those close to them, but you need to win the love of a Scorpio, and it is difficult to do.
Scorpio Luck Horoscope for Today

Surely, today is not only important day for Scorpio. But specific chance to make efforts for future.

You've probably heard a butterfly flapping its wings on one side of the planet can eventually cause a tornado on the other. But even if it's a myth, we know how one small change can bring a wave of transformation. Touch one of a thousand dominoes stacked evenly apart, and that wave is very clear. One small action on your part could create a significant change. So, be sure it's one you want.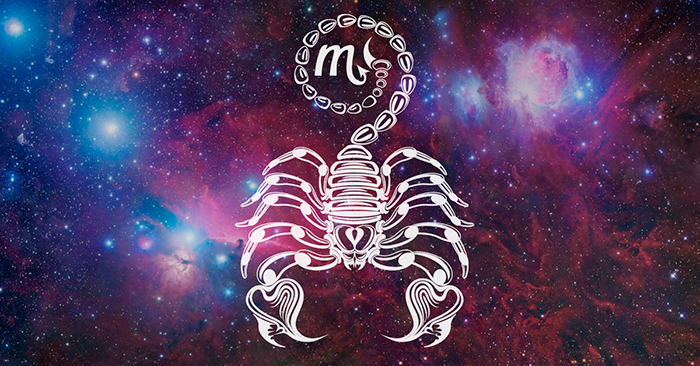 Scorpio Horoscope for Tomorrow

Undoubtely, tomorrow comes at least tomorrow. However, for Scorpio "tomorrow" comes unexpected sometimes.

Trust your intuition to help you tell someone what they want to hear. For now, focus on that rather than what you think they need to hear. The latter won't help widen or reopen communication lines. So, give some thought to what you think you could say that someone will appreciate. That's how a conversation you want to have can happen.
Scorpio Weekly Horoscope

Basically, every day in a week can be significant. Without a doubt, his is the good reason for Scorpio trying to make these days better.

Rottweilers were bred originally to pull carts and plows. It is said these animals possess strength that a heavyweight boxing champion would be powerless against. Yet, apparently, you couldn't want a more docile, gentle animal. Enough about rottweilers. My point is, where there's power and strength, there is always scope for sensitivity and compassion. Circumstances this week could require you to lose aggressiveness and summon the latter two qualities instead!
Scorpio Horoscope for November 2021

We arrive at a time of year when many people believe it makes sense to embark upon certain plans from January onwards. Why try to lose weight if we're only going to put it back on by New Year? Why look for a new job if we wouldn't start until January or February anyway? But there is that old trusted saying, 'carpe diem.' It means 'seize the day.' This month, don't delay what you know in your heart needs doing. A result you're keen to bring waits for you to take the initiative.