Aries and Aries compatibility is very controversial. By nature, representatives of this sign have a quick-tempered character, therefore, in order to be near, both partners will need to learn a lot.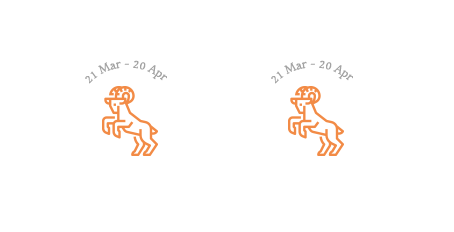 Aries are always busy and passionate people. Therefore, the chance for meeting such people is rather low. It is more likely they will travel on parallel roads.
What about today? Read daily horoscope for Aries!
But when they meet, a spark of attraction is impossible to avoid. Relationships highly likely will be hard and contradictory, but also full of emotions.
The compatibility of two Aries is based on the strength of the natural character of people. It is believed that the relationship between representatives of this zodiac sign can develop safely if they were born in different months.
In this case, the rivalry between partners will be minimal. Heightened natural emotionality will not cause parting.
Love
Need latest information? Read love horoscope for Aries for today.
The compatibility of the Aries man and the Aries woman in love relationships is not high in percentage terms. But Aries are loyal companions, they prefer honest and sincere feelings.
The Aries man is always ready for strong feelings, and the Aries woman is able to adequately respond to him. This allows to make love relationships bright and emotional.
After the first meeting, Aries easily manages to find a common language and fall in love. In the beginning, the love story between Aries is like a fairy tale.
But it can be destroyed at any moment by increased emotionality. This is the factor that explains the low compatibility of Aries and Aries in love.
The desire to lead is a strong annoying factor. Aries and Aries love relationships is a mix of lyrical story and a horror movie.
If partners do not show patience and do not try to understand each other, then periodic bouts of anger and rage will kill love and lead to a final breakup.
Family
Marriages between two Aries are quite common. But in most cases, Aries do not stay together for a long time.
Household chores and family obligations make it more difficult to find a common language with each other. Especially since they do not know how to find compromises due to their natural stubborn nature.
The marriage between Aries can persist if one of the partners gives up leadership. More likely a woman is more reasonable in this respect.
Aries are responsible in parenting, the birth of a child will help save the family. In the Aries and Aries families is one dangerous factor that can lead to divorce - jealousy. Aries are not able to control this feeling.
In an established family of two Aries, betrayal is rare. And when the partners understand this, then family life will be filled with calm and negative emotions will leave it.
More information about financial luck in Aries money horoscope.
Friendship
Aries of opposite sexes often make good friends. This happens when there is no sexual attraction between the Aries.
Aries value friendship and cherish it. Aries are never bored with each other, they always find interesting topics for conversation.
But at the same time, in friendship, each of the Aries strives to become a leader and this provokes quarrels. After that, it is not always possible to restore friendly relationships.
If the Aries meet and become friends in childhood, then they will keep a strong friendship throughout years.